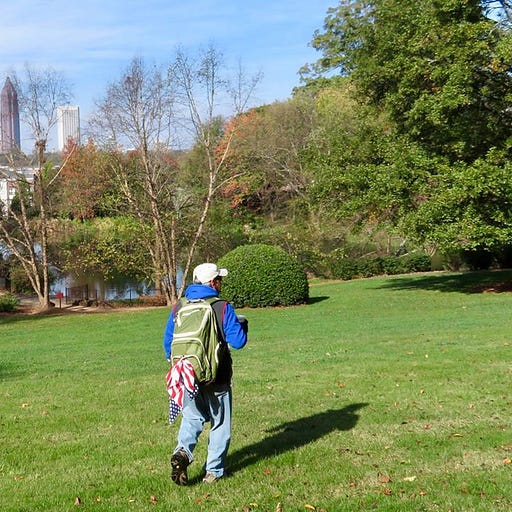 Aug 14, 2021 • 3M
My Last Tour (Update)
Post-Tour Get-together Added
Connecting you with Atlanta's past, present and future
The email below went out to those who have registered for tomorrow's event, my last public tour. As of this morning, there were seven spots open. There is an optional get-together after the tour at New Realm Brewing so, if you can't make the tour, please feel free to join us at New Realm (rooftop).
Good morning, looking forward to seeing you tomorrow on my last public walking tour tomorrow (Sunday). Few items to help you optimize tour experience:
Tour begins at 10:00AM at the picnic tables behind the former Parish adjacent to the Eastside Trail.

Take MARTA to Inman Park station or rideshare if possible. Parking is very limited.

The tour ends at the same place, although there is an optional get-together after the tour at New Realm Brewing, which is a 5-minute walk (north) along the Eastside Trail.

We should be done with the main tour by 1:45PM.

Total distance will be about four miles. We will walk at a leisurely pace and stop along the way to discuss ATL's past, present and future.

I created a special webpage for this tour that will serve as a learning aid and discussion tool. Bring a tablet (iPad, etc) with you if you can. This will enhance your experience considerably.

Bring water, sunscreen, etc. We will be walking on paved surfaces most of the way.

We will be making a few stops along the way. Nothing concrete, we will play this by ear.

The tour is almost full (50 max) so our group is going to be quite large. That will make it challenging to get served (as a group) at the various stops.

Might be best to eat a hardy breakfast so you can hold out until 2:00 when we get to New Realm. The food there is excellent.

Weather looks good so no issues there. Temps will start in upper 70s and get up to mid-80s during the tour.
Please EMAIL me if you have any questions or suggestions. If not, I will see you tomorrow morning.
Steve, steve@exploreatl.com
---
What's Next?
In case you are interested, my next and final project will be to create an ecosystem of interactive maps to help people explore ATL on their own in the future. These will be based on what I have learned about the city during the past seven years. This webpage will give you an idea of what you can expect.