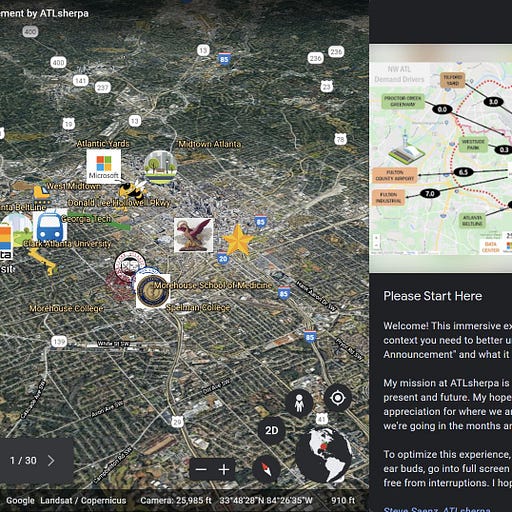 Apr 1, 2021 • 53M
ATLsherpa: April 2021
April 2021 Podcast + Newsletter from ATLsherpa
Connecting you with Atlanta's past, present and future
In This Issue
[audio start times for each section]
New Perks, New Subscription Rates [04:15]

New Walking Tours for Spring & Summer [08:54]

New Online Tools you can use to Explore ATL [14:32]

New Facebook Group you can join [17:06]

You can now submit content & tour suggestions [17:53]

You can now submit a tour review [18:35]

Microsoft's Quarry Yards Update Video [19:58]

Transformative Developments Update [29:15]

What I'm keeping an eye on [35:38]

What I'm reading [44:42]
---
New Perks, New Subscription Rates [04:15]
New Perks
Monthly podcast + newsletter goes out to everyone on the first of each month

Premium subscribers receive a weekly "mini" podcast + newsletter each Sunday (starts April 4)

Premium subscribers get one complimentary ticket to most Public Tours

Sherpa Club members get two complimentary tickets to most Public Tours

Premium subscribers enjoy 5% discount on my Custom Tours

Sherpa Club members enjoy 10% discount on my Custom Tours

Premium subscribers enjoy 25% discount on Private Consultations

Sherpa Club members enjoy 50% discount on Private Consultations
New Subscription Rates
Premium Subscription now $90/year or $15/month

Sherpa Club now $120/year

Gift and group subscriptions now $81/year (4+ subscribers)
---
New Walking Tours for Spring / Summer [08:54]
ATL360 — series of (10) walking tours that correspond to the Atlanta Beltline Sub-areas

Full Moon Mystery Tours — series of (6) walking tours. A 'fusion' of Epicurean adventure + urban exploration + celestial wonder.
---
New Online Tools you can use to Explore ATL [14:32]
---
New Facebook Group you can join [17:06]
I have created a new FB group for members of the ATLsherpa community. This includes everyone who signed up for the complimentary newsletter as well as Premium Subscribers and members of the Sherpa Club. The name of the new FB group is ExploreATL.
---
You can now submit content & tour suggestions [17:53]
I am open to feedback and suggestions when it comes to content here on ATLsherpa as well as ideas for new tours. Please email all comments and suggestions to steve@exploreatl.com. Thank you.
---
You can now submit a tour review [18:35]
Reviews are the lifeblood for most service businesses. If you have taken one of my tours (in person or virtual) and you feel comfortable writing a review, you can now submit them online. You can also post reviews on my Trip Advisor page. This will really help me and I appreciate it very much!
---
Microsoft's Quarry Yards Update Video [19:58]
My thoughts about Microsoft's "Big Announcement" to purchase 90 acres in NW ATL for a new corporate campus continue to evolve. As discussed on my March 10 podcast, this is a BIG DEAL for ATL — bigger, I think, than most people realize. The video below summarizes my current thinking about the announcement, itself, and its potential impact on ATL.
The only thing I would add to this presentation is that, in the last several years, companies like Microsoft view new office buildings as a 'competitive advantage' when it comes to recruiting and retaining talent. As such, developments like Atlantic Yards (Microsoft's new facility in Atlantic Station) and Quarry Yards (90-acre site they purchased in 2020) represent strategic corporate assets. Developers like Hines (Atlantic Yards) clearly understand this as evidenced by the language they use to market their new projects. Here are some examples…
"Elite talent doesn't just show up. You've got to give them spaces that inspire. Places to thrive. And all the modern tools to perform. We offer all of this and so much more. Recruit-and-retain just got as easy as saying "Atlantic Yards."

"Gorgeous common areas that invite spontaneous collaboration and social connections. Fully modern fitness facilities to keep body and mind in peak form. Ground-level retail for all the little things. The list goes on in this absolute haven for the work-life balance today's talent so desires."

"Think of it as the ultimate job enticement. Because being located within Atlantic Station gives your people immediate access to the most desirable and walkable 24×7 dine-shop-live-work neighborhood in Midtown Atlanta. Some companies have designated parking. This is a designated playground."
Microsoft's decision to lease 100% of Atlantic Yards and then to acquire 90 acres in NW ATL to build a new corporate campus are very deliberate decisions intended to provide this tech giant with a long-term strategic advantage in the 'war for talent.'

This bodes well for ATL on many levels! The timing and scale of these new projects indicates (to me) that Microsoft has put the world on notice. It has put a stake in the ground and exclaimed: "ATL is the place to be and we intend on making this city one of the world's great technology and innovation hubs." As I have said many times, this announcement by Microsoft is as "big" as the 1996 Olympics and one that will put ATL on a new trajectory as we enter the Digital Age.
---
Transformative Developments Update [29:15]
Speaking of transformative developments, here's a list of other major announcements that have been made in recent weeks…
---
What I'm keeping an eye on… [35:38]
Absorption Rates — How quickly will all this new apartment, office and retail space be leased out? Especially in Midtown, West Midtown and along Memorial Drive.

Business Travel — How quickly will it resume and what impact will this have on ACV business? Same for concerts and sporting events.

Job Growth — When will regional job growth resume and to what levels?

Traffic — How normal our "new normal" be"?

Atlanta Beltline Construction Updates — How long will it take for the pace of construction to accelerate now that the new tax district has been created?

The Freight House — How quickly will the new apartments and retail space take to lease up? This will provide some insights into the future South Downtown and Centennial Yards. Additional residential density is key to future progress.

South Downtown — When will we see new tenants moving into some of Newport's properties? Keep an eye on 222 Mitchell St and Historic Hotel Row properties.

Underground Atlanta — When will see see plans from new owner / developer? Keep an eye on absorption rates of new retail space and foot traffic.

Homelessness — What can (will) city and corporate leaders do to solve this problem? In addition to being a growing humanitarian crisis, homelessness serves as an impediment to the renaissance of Downtown ATL. It also prevents ATL from realizing its full potential as a world-class city.
---
What I'm reading… [44:42]
---